---
Beautiful Flowers Upper Hutt
6 Dakota Grove, Upper Hutt, Wellington, 5018, New Zealand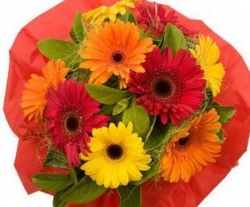 Address:
6 Dakota Grove,
Upper Hutt ,
Wellington ,
5018
About Beautiful Flowers Upper Hutt:
Welcome to Beautiful Flowers Upper Hutt. Our flowers come straight from the local markets and are always fresh, beautiful, and of the highest quality. While our main focus is on flowers, we also have a range of soft toys, chocolates, balloons. Our gourmet hampers and gift baskets make wonderful gifts, and these can be tailor-made for you.
Opening Times:
Mon

7am - 9pm

Tue

7am - 9pm

Wed

7am - 9pm

Thu

7am - 9pm

Fri

7am - 9pm

Sat

7am - 9pm

Sun

Closed
We deliver flowers to:
Belmont
Days Bay
Haywards
Heretaunga
Kaitoke
Mangaroa
Mungaroa
Silverstream
Trentham
Wallaceville
Where to find us:
More About Beautiful Flowers Upper Hutt & History
I've always had a love for flowers. When I was little my mum and grandmother would take me to James Smith (a department store in Wellington which closed many years ago) and there was a small little flower shop and I would love seeing the florist at work, so since that time my passion has always been about flowers.
I started working in a flower shop when I was 13 years old; this was my 'after school' job. I would wash the vases and do all the cleaning, but that never bothered me, all I wanted was to be in a florist shop.
When I finished school, I continued working in the florist shop. I left New Zealand for about 6 months and I went to Greece, to see my extended family. I had a great opportunity to work in a flower shop in Athens. I came back to New Zealand and continued working as a florist.
At the age of 23 I had my own flower shop in Willis Street, (in the heart of Wellington). I had my shop for 5 years. During that time I had a wonderful array of customers and had orders for all types of occasions: corporate, brides, partners, babies, families, funerals, embassies, government departments, I was lucky to do flowers for our Prime Minister at the time Helen Clark, a number of Members of Parliament, presentation flowers for the Greek Prime Minister (who came to New Zealand on an official visit), as well as a large basket of flowers for Nana Mouskouri when she was on tour. During those 5 years my husband (Geoff) was very supportive and would always take time off work so he could help me over Valentine's Day, Mother's Day, ANZAC day and Christmas, he was a great help.
Supporting New Zealand businesses is what I do, and I source the majority of beautiful flowers from our growers.
I eventually sold my shop to allow me to spend time with my precious baby boy Marko. My son is now 8 years old, so it's time for me to get back into my passion for flowers. This is why I have my online site, so I can work from home offering a high standard and professional service, and still have time for my beautiful family, which I love very much.
In 2015 I was very lucky to do a florist course with a top florist in New York. What a honor. I have now been working from home for 5 years thank you for all your support.
Overview for Beautiful Flowers Upper Hutt
All reviews for Beautiful Flowers Upper Hutt
I live in Ireland & sent flowers to NewZealand & couldn???t be happier with the service here. I got an Email telling me they had been delivered & my friend text me a short time later to thank me for the beautiful flowers so I couldn???t praise this Florist highly enough there service is exceptional.

Thankyou for very good service my Daughtter was very pleased with her Flowers.

The lady I corresponded with was very nice. But I was very disappointed with the flowers that were sent. The floral tribute was in remembrance of a dear friend who had passed away and I thought the flowers were paltry to say the least and did not resemble the arrangement in the photo on Direct2Florist web site one little bit. The lady apologized but said I should have hit something on the web site to say I wanted the exact same flowers and she would have contacted me to say I would have to pay extra, which I would have. She also said that flowers were particularly hard to get because of the wholesale problem in NZ. While I sympathize with any problems florists have, how can I, as a customer, get what I ordered and paid for.

My cousin was absolutely thrilled with the flowers she received.

Customer awarded 5 stars.

Customer awarded 5 stars.

Great service, the flowers were delivered within a few hours. Thanks.

Wonderful. They called me in Australia to advise that the flowers I wanted were unavailable and was there another flower they could offer. My Aunt sent me photo of the bunch and they were beautiful. I will be using this service again. Thanks so much!!

Excellent, quick service. Lovely flowers.

Delivered as soon as pos as requested, but would have liked a pic of flowers being sent. Thought I might get this by email as suggested on your website? So now have no idea of what has been sent

Amazing service:) would happily recommend to anyone!!

Prompt deliver and the flowers were apparently lovely. I paid for the largest bunch, they don't look very big but very hard to tell really. They look lovely colours as ordered.

Great communication. Delivered when I wanted. A great service :)

I cannot praise Beautiful Flowers enough. I thought I would surprise my old friend on her 50th birthday..... except I didn???t know she had left her address 4 weeks prior, so the address was wrong and the phone number had been disconnected. They just found an empty house. So what did they do, they played Sherlock Holmes. Went to several neighbours and eventually got a mobile number for my friend and finally got the right address, 30 minutes away. No problems. They just headed off to the new address and delivered the most wonderful flowers to my friend. Would I use them again? YES. Will my friend use Beautiful Flowers because of the amazing flowers she received? YES. What can I say; Beautiful Flowers certainly know what customer service is and I???m so glad I placed my order with them. Highly recommend them for all your flower needs. Thank you Beautiful Flowers.

Outstanding. The type of service we would all like to think comes naturally was easily exceeded. Ordering from the UK for a funeral can never be easy, but this was complicated by late advice of the date when the recipients lost our contact details! The response to our urgent request was magnificent and the day was saved. Thank you again, Dana of Beautiful Flowers

My family were delighted with thier flowers and the delivery was as requested. It was great to get a notification of delivery email, instead of worrying whether they had recieved them. Unfortunately I don't know what they looked like, so it would be great if you could request a photo to be sent, even if there is a small charge.

I am in the uk but sent them for friends who are getting married in New Zealand. I can't comment on what they look like but I can say the service I received from beautiful flowers was 5 star. I would definitely use them again.

We have sent flowers to family in New Zealand many times but being in Australia we're not able to 'see' the product until after it has been delivered. Most times it has been most disappointing, so we decided to use a new florist. Communication was made at every step of the process, which we were most delighted with, but not as happy as we were with the comments we received from family once they had their flowers. Will definitely use Beautiful Flowers again for future orders. Thank you Beautiful Flowers, you've made us most happy and proud. Keep up the great work!

I ordered on one side of the world and beautiful flowers were delivered on the other side within 3 hours. Well done!

Really impressed with flowers and prompt delivery. My mum was very happy made her birthday . Thanks to you guys. Will definitely recommend this site and this florist.

Very prompt sevice.made sending flowers from overseas very easy.highly recommended.

Customer awarded 5 stars.

Appreciated the efforts to deliver them under poor weather conditions. The recipient loved the previous flowers too, so was easy to reorder from you on this occasion. Thank you. Great service.

I was very happy with the service I received from Beautiful Flowers

The feedback from the flowers were great. Beautifully presented too and considerately left for recipient. A lovely gift, so thank you.

Great service, would love to order flowers from here again.

Thank you for ringing me to let me know there was a Time difference , also for the email to tell me the flowers Were delivered. Excellent service

Customer awarded 5 stars.

Customer awarded 5 stars.

Excellent service and great communication with the florist

Awesome thankyou. Although not sure what the service fee was about. The recipient loved her flowers

Great personal service in delivering flowers on time at short notice. Thank you.

Thanks so much, my mum sent a photo of the flowers when they arrived and they were gorgeous! She absolutely loved them. Thanks again for all your help.

Thank you for the delivery of the beautiful flowers to my best friend in Upper Hutt. She was absolutely over the moon with them! I would also like to say thank you all the way from England for the fantastic customer service & re-assurance you gave me. Brilliant and will definitely use again in the future.

This is the second time that I've done business with you and once again I was very pleased with the very efficient and personal service you give. Highly recommended.

Great communication as always. Thanks a lot

2nd time of using this wonderful site. Good service great flowers

Ordering from the UK on your NZ website for Christmas Flowers for our family was easy and the response accepting our order was immediate. We now hope the Christmas Flowers we ordered meet bot our expectations. We will respond once the Flowers have been delivered to our family in Waikanae. Kind regards David Hollingsworth

My daughter in law loved. The flowers, the "pearls" on each flower are a lovely touch. Delivered on time and left in a safe place. Many thanks this is a lovely way to send a present from the UK to NZ. I will definitely use you again.

An excellent service from beginning to end. Thank you Beautiful Flowers, you did a fantastic job and your communication was also first rate - it was great to receive a personal email to say the flowers had been delivered safely. I understand that the flowers were lovely too. Many thanks and I would most certainly recommend you to anyone.

Excellent service. Will use again.

Perfect,quick delivery,nothing to say

Thanks a million guys. Super quick delivery. Girlfriend was delighted. Rob in Dublin.