---
Magnolia Florist
2/121 Papanui Road, Merivale, Christchurch, 8014, New Zealand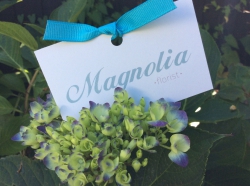 Address:
2/121 Papanui Road, Merivale,
Christchurch ,
8014
About Magnolia Florist:
We are a rustic French country inspired florist using a combination of stunning blooms and garden style foliage to create beautiful bouquets. We wrap in white tissue and crisp white paper.... Simple and stylish. We are open and deliver 7 days. We also have gifts.. French Maison Balzac candles, Danish Chocolate, imported soaps and hand creams, and a great selection of vases.
Opening Times:
Mon

9am - 5pm

Tue

9am - 5pm

Wed

9am - 5pm

Thu

9am - 5pm

Fri

9am - 5pm

Sat

9am - 4pm

Sun

Closed
We deliver flowers to:
Addington
Akaroa
Allandale
Amberley
Annat
Aranui
Ashley
Ashley Bank
Ataahua
Aylesbury
Balcairn
Bankside
Barrhill
Barrys Bay
Belfast
Bells
Bennets
Bennetts
Bexley
Bromley
Brookside
Burnham
Burwood
Cashmere
Cashmere Hills
Chaneys
Charing Cross
Chertsey
Chorlton
Clarkville
Clifton
Coalgate
Coopers Creek
Courtenay
Coutts Island
Craigieburn
Cust
Darfield
Dorie
Doyleston
Dromore
Dunsandel
Duvauchelle
Duvauchelles
Ellesmere
Ethelton
Eyreton
Fendalton
Fernside
Flaxton
French Farm
Glenroy
Glentunnel
Greenpark
Halkett
Halkett Town
Halswell
Harewood
Harewood Settlement
Hatfield
Hawarden
Hawkins
Heathcote
Heathcote Valley
Hornby
Horndon
Hororata
Horrelville
Irwell
Kainga
Killinchy
Kirwee
Kowai Bush
Kyle
Ladbrooks
Le Bons Bay
Leeston
Leeston Town District
Leithfield
Lincoln
Linwood
Little Akaloa
Little River
Loburn
Lyttelton
Mandeville North
Marshland
Masons Flat
Medbury
Mitcham
Motukarara
Motunau
Newland
North Loburn
Norwood
Ohoka
Okains
Okains Bay
Omihi
Ouruhia
Overdale
Oxford
Papanui
Pigeon Bay
Poranui
Prebbleton
Puaha
Puaho
Rakaia
Rangiora
Rapaki
Raupaki
Redcliffs
Robinsons Bay
Rolleston
Saint Albans
Sandy Knolls
Scargill
Seafield
Sedgemere
Sefton
Selwyn
Sheffield
Somerton
South Malvern
South Rakaia
Southbridge
Southbridge Town District
Southbrook
Spencerville
Spreydon
Springbank
Springfield
Springston
Springston South
Summer
Swannanoa
Sydenham
Tai Tapu
Takamatua
Takamatua Bay
Taumutu
Te Pirita
Te Rapaki-a-Te-Rangiwhakaputa
Teddington
Templeton
Tormore
Tuahiwi
Waddington
Waikari
Waikuku
Waikuku Beach
Wainui
Waipara
Waipera
Weedons
West Eyreton
West Kyle
West Melton
Wetheral
Whitecliffs
Wigram
Woodend
Woolston
Yaldhurst
Where to find us:
More About Magnolia Florist & History
I established Magnolia florist in October 2015 and worked from home in Merivale whilst waiting for a suitable retails site to become available.. Which It did in April of this year. After the earthquakes 4 years shop space has become very expensive and very hard to come by. I was lucky enough to be invited into a gorgeous boutique development in Merivale which started off as shipping containers and is now a permanent building. It Is literally the size of a shipping container, a perfect size for us although A little cramped on a busy day!! Magnolia florist is my second business, I set up Flower Power in Merivale 15 years ago and sold it 5 years later.
Specialties
We specialise in rustic French styled hand ties bouquets with as much emphasis on the foliage as the gorgeous flowers themselves.
Location & Delivery
We are located in Merivale And deliver 7 days a week in the wider Christchurch Area and Monday-Friday in rural Canterbury.
Overview for Magnolia Florist
All reviews for Magnolia Florist
Flowers nothing like I ordered and were delivered on the wrong day. Fortunately my sister loved them but I was disappointed

the bouquet could not have been anymore different from the photograph - it looked absolutely nothing at all like the description. :A celebration of nature. Perfect for any occasion. Hand tied in gift box colours are pale pinks. The florist hand deliver this beautiful arrangement to your recipient" it was yellow, orange white and violet - I was so disappointed as my mom loves pink

Excellent service and beautiful flowers would use again.

Thanks Magnolia Florist for finding the right hopsital and delivering the flowers.

Brilliant guys! Made my Mum's day, thanks x