---
All For Love Flowers
66 Kew Road, Kew, Invercargill, 9812, New Zealand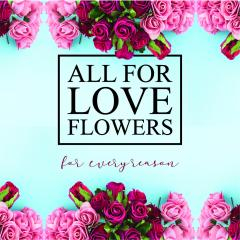 Address:
66 Kew Road, Kew,
Invercargill ,
9812
About All For Love Flowers:
All For Love Flowers - for every reason Opposite Southland Hospital - free hospital delivery Studio shop in garden setting, lots of fresh greenery Florist designed flowers delivered fast, fresh & friendly $8 Town Boundary $10 - $25 Rural ,
Opening Times:
Mon

9am - 6pm

Tue

9am - 6pm

Wed

9am - 6pm

Thu

9am - 6pm

Fri

9am - 6pm

Sat

9am - 3pm

Sun

Closed
We deliver flowers to:
Aparima
Ardlussa
Aropaki
Arthurton
Awarua Plains
Balfour
Benmore
Birch Grove
Birchwood
Bluff
Browns
Brydone
Centre Bush
Charlton
Chaslands
Chatton
Clifden
Clinton
Colac
Colac Bay
Conical Hill
Conical Hills
Dacre
Dipton
Drummond
East Chatton
East End
Eastern Bush
Edendale
Edendale Town District
Fairfax
Flints Bush
Fortrose
Freshford
Glencoe
Glenham
Gorge Road
Greenhills
Greenvale
Grove Bush
Gummies Bush
Haldane
Half-moon Bay
Hazletts
Heddon Bush
Hedgehope
Hirstfield
Hokonui
Isla Bank
Kamahi
Kapuka
Kauhoe
Kaweku
Kennington
Knapdale
Lady Barkley
Lady Barkly
Limehills
Lochiel
Longbush
Longridge
Longwood
Lorne
Lorneville
Lumsden
Mabel Bush
Mabel School
Maitland
Makarewa
Makarewa Junction
Mandeville
Mataura Island
Menzies Ferry
Merrivale
Mokoreta
Mokotua
Morton Mains
Mount Linton
Myross Bush
Ngaro
Niagara
Nightcaps
Nightcaps Town District
Oban
Ocean Beach
Ohai
Opio
Oraka
Orawia
Orawia Bridge
Orepuki
Oreti
Oreti Plains
Otahuti
Otaitai
Otama
Otamita
Otapiri Gorge
Otara
Otatara
Otautau
Otautau Town District
Pahia
Papatotara
Piko Piko
Pine Bush
Pomahaka
Port Craig
Pukearuhe
Pukemaori
Pukerau
Putangahau
Pyramid
Quarry Hills
Rakahouka
Rakauhauka
Raymonds Gap
Ringway
Riversdale
Riverton
Roslyn Bush
Round Hill
Ruahine
Ryal Bush
Saint Patricks
Scotts Gap
Seaward Downs
Slope Point
South Hillend
Springhills
Tahakopa
Tautuku
Te Tua
Te Tumutu
Te Waewae
Thornbury
Tihaka
Tiromaunga
Tisbury
Titiroa
Toa
Tokanui
Tuatapere
Tussock Creek
Tuturau
Venlaw
Waianiwa
Waihoaka
Waikaka
Waikiwi
Waikoikoi
Waikouro
Waimahaka
Waimatuku
Waimumu
Waipahi
Waipounamu
Wairio
Wairoto
Wairuna
Waitane
Waituna
Wakapatu
Wallacetown
Wendon
Wendon Valley
Wendonside
West End
West Plains
Whenuatonga
Winton
Woodend-nr-Clifton
Woodlands
Wreys Bush
Wrights Bush
Wyndham
Wyndham Town District
Where to find us:
Specialties
Full Florist Service - Hand tied Bouquets, Wedding Bouquets, Corsages, Balloons, Teddy Bears, Plants, Gift Baskets, Gourmet Hampers
Wedding Flowers, Ball Corsages and Buttonholes, New Baby, Birthday, Get Well, Fare Well, Anniversary, Valentines, Sympathy
Overview for All For Love Flowers
All reviews for All For Love Flowers
Customer awarded 5 stars.

beautiful flowers. easy to order online and fast delivery . very easy process from start to finish. I would highly recommend direct2florist to others.

Delivery was prompt and the the recipient was very happy with the flowers and chocolates I sent. Thank you and until my next order!

Very happy with the quality of flowers, the efficiency and speed of delivery. The email with images of the actual flowers was a really nice touch. This is the second time I???ve used this florist, online, from Australia, and wouldn???t hesitate to recommend them. Thank you

Lovely flowers, delivered on time, recipient happy! Thankyou

Awesome flowers and fast delivery. Would recommend for sure. Thanks

Great Service & Communication. Flowers delivered were just what we asked for, thank you-:)

Fantastic service, beautiful flowers and lovely lady. Thanks heaps

Customer awarded 5 stars.

Very happy with the ease of ordering from All for the Love of Flowers in Invercargill. They arrived on time, looking very fresh and beautiful and they followed my directions as to where to leave them should no one be home. I???m not sure how that could be improved! Great job and would highly recommend!

Customer awarded 4 stars.

Thank you for your very easy to use online ordering system and delivery at the time requested and particularly for providing me a photo of the flowers sent which I really appreciate. <br/>I am a little disappointed though as the flowers in your &quot;Celebration&quot; arrangement online look like a much fuller arrangement than the one in the photos you sent me of the arrangement for my sister. <br/>Regards <br/> Cornelia Martin

Beautiful flowers and lovely service. Would absolutely choose All For Love Flowers again. Thank you :)

Thank you for letting me know my flowers were delivered, also really nice touch to receive a photo, Awesome! Thanks very much Maree

Living in Auckland I searched for online Florists in Invercargill and came across ALL FOR LOVE FLOWERS. What a fantastic company and website. Made ordering so simple, and loved the above and beyond service they offer. Received an email to confirm delivery had been made, also attaching photos of the actual flower arrangement that was delivered. Thank you ladies, you made ordering from one end of NZ to the other a breeze. Love the flowers, love the service. I highly recommend ALL FOR LOVE FLOWERS for anyone needing flowers in the Invercargill area.

Thank you. For your quick delivery

Beautiful arrangement and great service would use again

Thank you so much for fast delivery - it was greatly appreciated

Excellent service. Ordered from UK to NZ - no problem. Photo of flowers was a nice gesture.

Delivered in a timely manner and on a Sunday for mothers day which was just wonderful service. The recipient loved the arrangement so thank you for such excellent service.

Customer awarded 5 stars.

Great flowers. Thank you.

Mum was very happy with the flowers. She thought they were absolutely beautiful and smelt amazing. So cool that you email photos of the flowers, especially when you can???t be there to see them. Thank you so much you have done an amazing job. You have amazing customer service. ????

Better than I expected and the florist was very kind as she called me by phone as I had forgotten to add a message to the flowers. As previously she has done a marvelous presentation and id always on time. My thanks to you

Ordered online the day before, delivered with zero hassle, and not to mention the flowers were beautiful! Will definitely be using All for Love Flowers again

Very happy with the flowers delivered. It was great to see a photo of what was sent. I will definitely choose this florist again when the occasion arises. Thank you :-)

Beautiful, Thank you from afar.

Customer awarded 5 stars.

Customer awarded 4 stars.

Customer awarded 5 stars.

Thankyou very much for delivering my mum such a beautiful arrangement of flowers! Flower arrangement that was made,was even better than the picture I picked off the website. Highly reccommend!!! Thanks heaps again!!

Have requested All for Love Flowers deliver on many occasions.... always a beautifully presented and well receive bouquet.

Great personal service and flowers were beautiful. Will come back.

Irene and Jimmy told us their flowers are beautiful.

Great service have used a few times from overseas! Fast and easy to communicate. Thank you

Super easy to order online. Flowers were delivered on time & looked lovely!

Thanks so much for your lovely flowers I had you send today. Second time this month we have used you. Fab job.

excellent, wonderful service in every way. I live in The Cook Islands and sending flowers to NZ was so easy with Direct2florist

Customer awarded 5 stars.

Lovely and much appreciated by recipient

I have been told by the rest of the family that the flowers were beautiful, so thanks so very much for these. Cheers Dawn

Very happy with the beautiful flowers and the prompt delivery

Excellent.definitely will be buying from all for Love flowers again .the flowers looked amazing and smelled beautiful.thank you

The flowers look beautiful. Thank you so much! I am very grateful. The website was easy to use as well Beth Lyman

My mother in law tells me the flowers she received were beautiful so Thankyou ???all for love flowers???.

Excellent prompt service-thank you

I am impressed with the ease of service and how the bouquet matched what was shown on the website. The delivery was on time and the person who received it was extremely happy. I also received a photo from her.

Customer awarded 5 stars.

Stunning . Quick service. Easy to order. Loved the arrangement. Thank you. ????

Flowers delivered on time and were beautiful and very much appreciated. Thank you

Flowers were delivered when requested and much appreciated the confirmation email with a photo of the flowers being delivered.

Customer awarded 5 stars.

A fabulous service & beautiful flowers delivered exactly as we wanted. Will definitely use again. Thank you so much. Helen Richardson.

Very quick to contact me and resolve payment issue which grateful for. The flowers provided were lovely and I know the recipient loved them too. Thank you for excellent service.

Customer awarded 5 stars.

A very happy mother in law. She was over thr moon. Will be using you again.

Awesome flowers, thanks so much.

Customer awarded 5 stars.

The recipient was absolutely delighted with the quality of the bouquet, I found the website easy to use, and the flowers were delivered on time as promised. A very good experience, and I would use All For Love Flowers again.

Wasn't the flower bouquet I intended for my mother to receive but My mum Liked them!

Quick efficient service - they were lovely to talk to when i called to check on the receipt

Customer awarded 5 stars.

We were so pleased with this service of All for love. They delivered a beautifully bright arrangement. My mother was delighted when they arrived at her door. I would recommend "All for Love" florists to others. Thank you

Customer awarded 5 stars.

Friendly and helpful when phoned. Thank you for good service. ????????

Customer awarded 5 stars.

The flowers were well received by the recipients and I too was very pleased when I arrived and saw them

The flowers delivered were not what i ordered or paid for. I paid for sunflowers and an orchid arrangement was received. I understand that sunflowers may not have been available but I was not informed otherwise. I have the receipt and order confirmation if needed.

Absolutely fantastic service, I ordered these on mothers day & thought I had missed out regarding a delivery on the same day...but my mum said they arrived!!! Very impressed & will definitely use this florist next time ????????... A+++ service! Thankyou

Customer awarded 5 stars.

All For Love Flowers has delivered over 1/2 dozen orders for me over the last few years.... always on time and of lovely arrangement and quality

Customer awarded 5 stars.

Very difficult to review as I never actually saw the flowers myself to see how they compared to the picture I selected when ordering on line. However I did contact Angela by phone regarding a wrong address I gave and she was very helpful and polite. I hope the flowers were as good as the phone conversation

Great service and instructions followed perfectly. Thank you.

Excellent service and lovely flowers delivered on time. Many thanks.

Excellent service. Extremely helpful and thoughtful to deal with. The flowers were beautiful and the recipient loved them. Thank you.

Top service, beautiful flowers. Thank you

Excellent service . Very talented ????

Customer awarded 5 stars.

Amazing service from Angela. At very short notice Angela was able to change the delivery date. The flowers were absolutely beautiful. Thank you so much. Helen Garnett

Excellent service thank you for the sending the photos gave me confidence my money had been spent well was not expecting them to be delivered in the same day awesome service.

I was disappointed with the flowers. $100 should I would of thought got a decent bouquet of flowers. My sister is a florist, I sent her the photo of the flowers and she valued the flowers at $90 and said exactly what I thought - that it looked like a supermarket bunch. I didn't think that the flowers looked like the website (and I do understand that flowers change for season to season) The flowers on your web should change on the $$ amount to see what size (and I do understand the $100 was not a choice to click on) but had I known that the photo represented $100 bunch I probably would not have bothered.

Well, my mother didn't ever receive her card with the message I typed out onto your website as it was left behind by the woman who delivered it. So Mum didn't know who the flowers were from. Also, the flowers, although beautiful, looked more like a $50 bouquet than a $90 bouquet. So overall I was a bit disappointed.

My daughter was thrilled with the flowers she received. The process was extremely easy, would definitely use this service again for an out of town delivery. Thanks so much ????

Excellent service again........

5 stars! Beautiful flowers and brilliant service!

The rating scale isn't showing up, but I rate 10/10! Thank you very much

Customer awarded 5 stars.

Flowers arrived on time and according to the recipient were absolutely beautiful. It is assuring that even though I live thousands of miles away my order will be dealt with professionally and expertly. Would certainly use again.

My grandmother loved them to the point she was in tears thank you

Great service, same day delivery with no hiccups. Really appreciated that I could write exactly what I needed to on the gift card with no character limit. In the circumstances we needed these for, I wasn't prepared to cut the message down. Finally, receiving photos of the actual flowers delivered just topped it off. You guys really do an amazing job, keep it up.

Great service and lovely basket. Thank you.

Customer awarded 5 stars.

mother very pleased with them, this is the 2nd year we have used you.

Very happy with flowers , quick delivery. Online ordering user friendly. Very happy with service.

Amazing, thank you so much. The flowers where very nice and you saved my life!

I purchased the standard 'Mum's Perfect Day' bouquet for my mother for Mother's Day, it cost $75 altogether including delivery. <br/>As I do not live in the country I truly rely on gifts like these to make my mum's day as special as it can be without my actually being there. <br/>I made my choice based on the image shown. The image did not specify if it was the 'standard,' 'deluxe' or 'luxury' bouquet, so I foolishly assumed it showed the standard bouquet. More fool me. <br/>When my mum sent me the image of her flowers I was embarrassed to find that the bouquet looked nothing like the image I had based my $75 purchase on, and in fact looked quite sparse. <br/>For what it's worth she enjoyed the flowers, but I felt utterly let down and quite sad. <br/>Considering how many other florists there are in Invercargill who actually do show a fair representation of what their clients are actually purchasing online, I will not be ordering from you again. I guess I can consider it a $75 lesson learned.

Easy to use, great service upon delivery and the person I ordered them for loved them!

Thank you for great service and communication is excellent, flowers were just perfect.

Beautiful flowers! Emailing the photo through was also a nice touch!

Excellent value and amazing service. Was really impressed and would gladly recommend them!

I have used this shop in Invercargill for many years and they have never failed me on quality and performance. I cannot rate them high enough and will continue to use and recommend them. Thank you All For Love Flowers

excellent service and beautiful flowers

Excellent service. Well done to everyone at 'All for Flowers', Invercargill and thanks especially for helping with the delivery details. Sending flowers internationally can be a bit tricky, but everything was dealt with in a prompt, professional and friendly way. If sending flowers to my relatives again, I would definitely give this florist my business.

Excellent service. Receiver acknowledged they were beautiful. Shopping via Email Christchurch to Invercargill went smoothly. Photo received were as advertised. Many thanks will use this Florist again.

Very happy with flowers, service and pricing. Thanks so much.

Beautiful flowers, delivered on time. Friendly helpful staff.

These people went out of there way to deliver the flowers when there was no one at the given address they contacted me and we were able the find the person else where

Thanks for a speedy hassle free service. Love the email up dates when we can't be there to see them our selfs.

Absolutely fantastic service from selecting and submitting my order to the closing of the sale, the service you provided was outstanding i have sent flowers previously with other companies and often wondered what they looked like? Did they match the picture? Were they a reasonable size? Etc. But you guys went above and beyond my expectations by sending me an email with photos of the bunch i had ordered i found this service fantastic. Im a huge fan! Thank you so much

Customer awarded 5 stars.