---
Dawnacres Florist
208 Havelock Rd, Hastings, 4122, New Zealand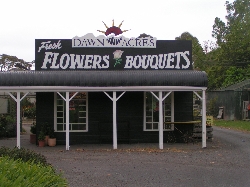 Address:
208 Havelock Rd,
Hastings ,
4122
About Dawnacres Florist:
We can offer you a better way to buy flowers and bouquets. Unlike most other florists we grow most of what we sell. We are proud to be growers of exceptionally high quality flowers specialising in roses. Buying direct from Dawnacres guarantees a fresh product at competitive prices. We offer a full range of floristry services.As we live on the property we can often offer a 7 day service.
Opening Times:
Mon

9am - 5pm

Tue

9am - 5pm

Wed

9am - 5pm

Thu

9am - 5pm

Fri

9am - 5pm

Sat

9am - 5pm

Sun

Closed
We deliver flowers to:
Ahuriri
Allerton
Awatoto
Clive
Fernhill
Greenmeadows
Haumoana
Havelock North
Maraekakaho
Mast
Meeanee
Moteo
Onekawa
Otane
Pahowai
Pakipaki
Pakowhai
Port Ahuriri
Poukawa
Puk-kura
Pukahu
Pukehou
Puketapu
Ruataniwha
Tamihunu
Taradale
Taradale Town District
Te Awanga
Te Hauke
Tomoana
Tutira
Waiohiki
Waipawa
Waipureko
Westshore
Where to find us:
More About Dawnacres Florist & History
At Dawnacres we have 2Ha of land with 750 square meters under plastic where we grow roses, lillies, lisianthis and sweet smelling stock. Our spare land is used to grow christmas trees, graze three cattle beasts and six sheep. Chris and Lorraine Burns live at Dawnacres and this is why we can often offer a 7 day floristry service.
Lorraine works off the property in Hastings during the day and is a competent florist who will usually make up your weekend orders. She looks forward to when she can retire from her day job and focus on wedding work.
Chris is a high school teacher at Havelock North High School specialising in teaching sciences and biology. He bought Dawnacres about 20 years ago as a place to graze ponies and today he maintains the flower crops and Christmas trees.
His skills at making up bouquets enables him to be a florist as required, but this is a job he usually calls Lorraine to do.
Specialties
As one of the leading florists in Hawkes Bay, Dawnacres Florist specialises in delivering bouquets beautifully gift-wrapped in colourful, frilled crepe paper tied with ribbons. We also deliver floral arrangements in glass, vases and vox boxes which are ideal for hospitals or people who may be short of vases or space. We cater for weddings, funerals, and if fact we can offer a full floristry service for any occasion. At Dawnacres we are in the unique position of growing many of the flowers we use in our arrangements and are usually be very generous with the number of flowers we use.
To increase the variety of flowers available we are fortunate to be able to by from a local flower grower and wholesaler.
Buying from Dawnacres guarantees you a quality product at the most competitive price. 99% of our customer reviews rate us as a five star florist.
Location & Delivery
Dawnacres is located on Havelock Road which is just a few minutes drive from Hastings, Havelock North and Napier. The local hospital for the area is 12 minutes drive away.We are able to offer delivery to most of Hawkes Bay as the rural areas are serviced by a daily mail car.
As Lorraine and I live on the property we are often able to offer a 7 day floristry and delivery service.
Overview for Dawnacres Florist
All reviews for Dawnacres Florist
The flowers my husband ordered for my birthday were just beautiful.

Great flowers every time- never been disappointed. Thank you for the wonderful job you do.

Customer awarded 5 stars.

The person who received the flowers rung me to say they were absolutely stunning bunch of flowers. They gave great feedback about your service. Thank you

I bought the Fall Bouquet as advertised online. I was particularly taken by the autumn lillies and leaves as illustrated. I thought the bouquet I received looked like a generic product which bore little resemblance to the illustration - certainly not as large as illustrated - despite buying the Deluxe option. There was no gift bag as specified, just bare stems. When asked about a suitable container, the shop provided a wine carton stuffed with newspaper. Consequently for me an overpriced and not impressive gift as planned. <br/> <br/>I also requested that I collect the bouquet from the shop I ordered through (Dawnacres) and had difficulty communicating this - the website doesn't provide that option, and despite specifying that in the Special requests box, it required an exchange of emails to get the point across. <br/> <br/>I will not be using this service, nor the associated florist again.

Got pictures of the bouquet from the recipients and the bouquet reflected what the order said it would be like, so excellent thank you. <br/>BUT - the website said delivery on the same day if ordered by 2pm. We got the order in at 2pm but got an email saying it would be the next day. It didn't matter that the delivery was the next day but if your website says 'the same day' then that's what it should be or otherwise don't advertise it that way. Thanks.

Fantastic service! Flowers were beautiful and delivered as per the delivery instructions! Thank you so much!

Customer awarded 4 stars.

Flowers arrived looking not the least bit like the picture I choose, the colours arrangement and style didn&rsquo;t hold the slightest resemblance. The bunch that was received wasn&rsquo;t even nice we are very disappointed that we spent our money and for a gift for someone we sadly wish we had chosen a different florist i really don&rsquo;t like to complain but feel when you don&rsquo;t get what you pay for truthful feedback needs to be given.

I was very disappointed. What I ordered was not the selection that was delivered and I would not have known if I did not receive a photo from the recipient of the flowers. When I queried why the correct flowers were not sent I go a prompt email agreeing it wasn't good enough as the selected flowers were in stock however there was no mention of what could be done to rectify the issue. I will not be using this florist again.

Customer awarded 5 stars.

This is the third time I have used them and it will not be the last! I was able to change the date of my delivery through email and they were very very cordial to me. The recipient said the courier was very friendly and even redirected the delivery to the building on grounds where she was working. I can not rate them highly enough!

Customer awarded 5 stars.

Great service! Gorgeous arrangement.

So fast, ordered last at night delivered next day before 1pm. A beautiful set of flowers my friend said they are beautiful. Thanks so much great value

Fantastic communication and my daughter was absolutely stoked with the arrangement that I sent her - she sent me a photo and it was what I had chosen. It was even delivered within the requested timeframe. Strongly recommend.

I was more than pleased and so was she! The arrangement was, of course, beautiful but even more, on what must be the busiest day of the year for florist, Valentine's Day, the requested AM delivery was made as her work day began so all her coworkers got to see it! Thumbs up, A+ and 5 stars! Could not be happier! Will definitely use Dawnacres again!

Customer awarded 5 stars.

Customer awarded 5 stars.

Customer awarded 5 stars.

Customer awarded 5 stars.

Excellent. Email confirmation of delivery and I understand from the recipient that the "Christmas flowers" are very elegant which is exactly what I hoped I had ordered.

very happy with the service of the local florist and the bouquet was lovely

Love getting photo of flowers delivered. Excellent service. Thank you

Looks lovely and a quick delivery too.

I was impressed with the ease of ordering online and getting exactly what I wanted for the occasion. And I was VERY impressed to receive a text informing me that the flowers had been delivered to the hospital and to the person they were intended for - and only two hours after my order had been placed! When ordering flowers and you live a long way from the person receiving them you just have to trust that they will be of good quality - and I have had feedback that they were beautiful. So thank you very much, happy to use your services again. Lorna

Amazing flowers and amazing service. Will be a customer for life!

Very quick and efficient service

I ordered a bouquet for my sister who had just come out of hospital. It was 2.30pm and I thought that it would not be delivered until the next day. A couple of hours later she rang to say how thrilled she was with the fabulous flowers.. The sent me a photo of them and they were just lovely. So happy thank you!

Flowers beautiful. Delivery excellent.. Service from order to delivery excellent. Thank you.

Customer awarded 5 stars.

Dawnacres were very easy to deal with and accomdating with requests for flower additions. I wanted alttle white stock in my order because I love the perfume. My daughter was rapted with the bouquet As it was beautiful. Awesome job !!.

The flowers were beautiful and the Courier even rang me to say they had been delivered - will def use Dawnacres again.

Great, speedy service and the recipient loved her flowers. Thanks so much.

The recipients absolutely loved the flowers ! And the card. THANKYOU for your wonderful service :D

Customer awarded 5 stars.

thanks for the picture of the flowers and email to confirm delivery.

Great service and person recieving them have great compliments also.

Customer awarded 4 stars.

Very efficient. Thank you, R Jones

Brilliant service, my sister was delighted with her flowers, 5 Star Rating,

I submitted an order to Dawnacres Florist via Direct2Florist from Ireland. I had requested a sympathy floral bouquet. The flowers arrived at the address I provided on time and the recipient was delighted with them. The arrangement was really generous in size and really colourful and bright as we had wanted. Thanks to all at Dawnacres for supplying such a good service.

The flowers are beautiful. I thank you very much for doing such a great job. I was very impressed with how efficient you were and how easy the website is to use. Many thanks I will continue to use you only from now on, it's do nice to find someone so easy to deal with. Well done,keep up the good work.

Customer awarded 4 stars.

The family were delighted to receive these flowers (delivered same afternoon of order placed) and the white lillies were in bloom 2 days after delivery on the day of the funeral. Many thanks to Dawnacres Florist :-)

Absolutely fabulous timing - you went the extra mile to deliver. Thanks

Only ordered the flowers at 1.00pm and they were delivered by 2.00pm the same day - wow wonderful service yet again Dawnacres. Thank you.

We wanted something special for my sister to say thank you and she was amazed at how beautiful her flowers were, she couldnt stop thanking me and went on to say how her whole officed loved them! Highly recommended

Customer awarded 5 stars.

The flowers delivered to my mum were beautiful! She loved them. Thanks so much, will definitely recommend.

I didnt see the arrangement, it was a spray arrangement for my ex mother in laws mums passing , she was beside herself in tears at how beautiful it was and contacted me late night after the funeral to say she crys each time she looks at it it is just absolutely beautiful she said she us mesmerized by it literally cant take her eyes off it. Thanked me so so much. <br/>So thank you so so much thats exactly what i wanted something beautiful to show the love i felt for her and comfort her at this time. <br/>Reccommend you anytime and definitely would use you again . Blessings and graditude &#55357;&#56842;

Even though they delivered to the wrong address and my friend was concerned whether the flowers would last they gave her a guarantee that if she had problems they would replace them for her. They also gave her suggestions on how to prevent wilting from happening. She was very happy both with flowers and advice given.

Thank you very much for guys help my girlfriend loved her flower and had a tear when she got to work and found them , she said they were perfect.

I was dissapointed to see the photo that my friend sent me. Firstly I didn't feel like the bunch was a $100 bunch of flowers. It appeared to be the same size as the small bunch that was advertised on the site when I had paid for an extra large bunch for $100. The initial bunch contained 6 big beautiful pink roses and yet the florist chose tiny pink roses no bigger than the size of your thumb. The initial photo had greenery that involved some long spiky reeds and some other greenery that is very beautiful. I understand that not always the same flowers are available but I just don't think it looked like a $100 bunch of flowers and it didn't look better and more flowers than the photo provided which is what would you assume if you pay extra to have the extra large bunch rather than the standard. Thank you

Ordered for delivery in Napier so chose this florist as wanted to be sure flowers were fresh as possible. My daughter was delighted with her surprise bunch of beautiful gerberas waiting on her doorstep when she came home. She said they were very special and so I was glad I decided to send them. One slight dissapointment for me though was I thought there would be more blooms in the bouquet. I chose the middle option for $70 and got 10 flowers plus greenery. Flowers looked lovely though and lasted a week.

My sister said the flowers are gorgeous.Many thanks.

As always, service and flowers impeccable. I always use.

Promptly delivered and a gorgeous bouquet of flowers. Very pleased with service.

Great service,good to be able to see what I had purchased.Recommend.

What can you say in the light of the florist knowing both your parents when sending flowers to a mother home a week after surgery. The comfort of local knowledge cannot be guaranteed but the chances are higher with a local florist. @hamishmacewan

Receiving a photo of flowers sent was special touch that I was not expecting.

always great service and value for money. Thanks guys!

The flowers were not the same as I chosen online. my family I sent the flowers for were very happy with what the received, said they were lovely and colourful loved them. That's all that mattered in the end . Since I'm in Australia and couldn't be there for them . So thank you from my heart . Will use this florish, again"

Customer awarded 5 stars.

So impressed with this service and dawn acres florist. Amazing bunch of flowers

Fantastic service top quality roses

Thanks guys, mum loved her flowers they were fantastic and my sister-in-law and brother loved theirs as well. Living in Paris, France and ordering flowers in Hastings, New Zealand that you will never see, is a risk. But You guys are awesome. I loved the photo, made it so much more personal. We are delighted customers. Un tr??s grand merci. Michael

Customer awarded 5 stars.

Dawnacres is a delightful florist to deal with. When there was an issue with the actual flowers they had available for the arrangement advertised I got a quick phone call and alternatives were discussed with a great result. The service is excellent, flowers were beautiful and the recipient was moved to tears. Highly recommended.

My mother was very impressed with the flowers.

As i live in Wellington and my mum lives in Hawkes Bay i wasn't able to see her this Mothers Day, Direct2florist was a perfect way to show my mum how much i appreciated her without being there. Thank you! 4 stars. :)

Absolutely thrilled with the prompt service, accuracy of providing "exactly" what I had asked for and in also the ease in being able to place the order via the web with my being so far away overseas. A HUGE thank you. Cheers, Kelvin. (The photo sent to me by my sister on my cell phone proves my comments 100%.)

This is my second time with dawnacres florist, and yet again they have exceeded my expectations. Amazing arrangements for less cost than elsewhere, and very efficient. I'll be back! Thank you dawnacres!

A beautiful arrangement as always. Thanks Julie Hawkes

Great stuff - my Nan was very happy!

You guys are the best. Thank you very much. I will definitely use you again. Regards, Hugh

Very pleased service is extremely good, and they tell me the flowers are lovely. Thank you. Mary

Customer awarded 5 stars.

The photos of the flowers were much appreciated

Without a doubt Dawnacres has been the best florist I have used and will always order from here again.

Quick and efficient with a generous amount of flowers

My sister was absolutely thrilled with the flowers and they were delivered the next day after ordering. The only very slight niggle was they said they would send me a picture of them as I'm in England & my sister is in New Zealand! Other than that an excellent service. Thank you.

Prompt delivery, beautiful flowers.

Very happy with the flowers and the service

Just as we ordered thank you

another great delivery thanks

I am very disappointed in the flowers that were delivered they weren't a bouquet of long stem dozen pink roses that I thought I was getting . There were 8 roses and was a flat lay with mostly ferns and wilted daphne.

Customer awarded 4 stars.

Customer awarded 5 stars.

Fantastic service, the flowers were beautiful!

Customer awarded 5 stars.

Customer awarded 5 stars.

Customer awarded 5 stars.

Stunning flowers and service

Thank you for the Sunday delivery

We are completely satisfied with the flowers and service

Customer awarded 5 stars.

My mother received the flowers and told me they were absolutely beautiful:) As I live in Darwin Australia, your service was an absolutely fabulous. Have definately saved your link to my favourites for future deliveries to NZ. Thanks again

Customer awarded 5 stars.

Great service and a Sunday delivery

Customer awarded 5 stars.

Customer awarded 5 stars.

I ordered flowers from London to arrive in New Zealand, the delivery address changed once I'd made the order and the company were very helpful about this. The flowers were beautiful. Thank you team, emma

Customer awarded 5 stars.

Delivered exactly as requested and the recipient was very pleased with the Florist's selection.

Arrived at 9:30 am Mother's Day..perfect

I loved the fact that my family were absolutely over the moon about the flowers. I will recommend you to others because the service was fast, convenient, and the end result was perfect Thanks

We didn't see the flowers ourselves but my mother-in-law was delighted and specifically expressed her love of the colours used. Flowers were also delivered on day of order which was greatly appreciated.

Recipient said they were the most beautiful flowers she had ever seen. Money well spent in my opinion & will buy from again. Thanks!

Customer awarded 5 stars.

Actual size of basket was much larger than shown on website. Flowers were lovely.

very efficient and delivered at the right time

Thank you heard from family flowers were lovely. Will definitely use again. Easy web, very quick delivery, and the photo I get is really great. Very thoughtful. Good old fashion service, thank you thank you.

I'm very disappointed with the flowers sent to my parents for their wedding anniversary. The basket I selected was mostly pale lemon coloured carnations, smaller white flowers, with my mother's favourite yellow roses in a delicate and graceful arrangement. The photo of the flowers sent shows a chunky arrangement dominated by large yellow daisy-type flowers, some of which have dark centres. It isn't even the same type of basket. I'm shocked.

Thanks. The photo of the floral basket sent for my order was a lovele touch.

Very easy process to order, good choice of flowers, I liked the options of different occasions which helped when ordering from the UK. Thanks.

Customer awarded 5 stars.

Easy and simple to order,and super quick delivery!excellent!

Easy to send flowers quickly around the world. Prompt delivery. Thank you. Great service. Very happy customer.

Great flowers but recipient was contacted when the credit cart was mucked up. Why not contact the sender?

Receiver commented that they were the most beautiful flowers she had ever received."Absolutely gorgeous". Will be using this florist again in the future.

Customer awarded 5 stars.

I loved the photo of the flowers that were delivered. So lovely to see the arrangement when you order from afar. Thank you they are beautiful

A beautiful arrangement and no-hassle, excellent service

Flowers were for a 50th wedding anniversary and my husband's parents were blown away by how beautiful they looked and smelled. They also appreciated that the vase was reusable, my mother-in-law is going to use it for a display. I also liked that photos of the actual flowers were sent to me - what service! Thanks very much, will be using you again for sure.

Customer awarded 5 stars.

Customer awarded 5 stars.

Customer awarded 5 stars.

I never saw the roses but were told they were lovely. The container they were delivered in was appreciated and will be used again. The roses were delivered on the day requested so no complaints at all.

The flowers were delivered prompty, and on request of using pinks and pastel coloured roses they were able to do so. My Mum thought they were gorgeous and mentioned they were very generous with the number of roses included.

Slightly smaller arrangement than expected for the price but it was very beautiful none the less :)

Customer awarded 5 stars.

Customer awarded 5 stars.

Customer awarded 5 stars.

Delivered on time despite short notice, delightful!

Thank you for your very prompt service. I found ordering the flowers very easy on your website. I have seen a photo and they were beautiful. Thankyou.

Great product and great service. Very pleased with Dawnacres, and we will be using them again.

The service was great and the flowers were fresh. Maybe I should have put that the recipient was in her early 30's, I was a little surprised to see chrysthumns I will know next time to ask for these not to be used.

Fantastic service, flowers and people. Thanks very much, again.!!!

Customer awarded 5 stars.

delievered on a sunday, thanks!

I am very pleased with the service, but can't comment on the flowers as I haven't seen them. The recipient was pleased.

My aunt was delighted with the flowers

Great Value for money lovely flowers thank you

Ordered some flowers for my daughter-in-law at Christmas. We were so pleased with the arrangement, that I orderd a bouquet this time for her birthday. This was equally well received. Photo sent to me so I could also apreciate the size and , and the selection of flowers which were beautiful. Thank you. It so nice to know that I can order flowers locally in New Zealand and know that they will be delivered in first class condition.

My mother thought the flowers were lovely. An easy and relaible service. Thank you.

My mum loved her flowers and said the man who delivered them was very nice..well done also for delivery on mothers day Sunday

Fantastic flowers-delivered as asked-Thanks heaps

Great service (flowers were ordered on Saturday and delivered the next day!) and what was delivered looked like the picture from which it was selected.

My Mum was thrilled with her absolutely beautiful flowers. Dawnacres consistently provide gorgeous flowers at a great price and just as you request them.

Awesome selection of flowers and prompt delivery!!

Customer awarded 5 stars.

Excellent Service Thanks.

Pain free transaction, prompt & efficient.

Customer awarded 5 stars.

Placed order from Australia. Was very easy. Were delivered quickly. Spoke to my mum and she said they were beautiful and were the talking point in her house. Thankyou so much. Would definately use again and recommend to others.

Very very happy with the service received from Dawn Acre.

Wow - real customer service from a real person! They had to make an a adjustment to my order and emailed me to let me know and charged me less because of it! Nice to be treated with care, thanks - and my son loved his rose!

Excellent product. Very satisfied customer

My friend in New Zealand was delighted with the beautiful bouquet delivered as ordered and even knew the guy who delivered it ,..... Thankyou for the most efficient service and being a local florist made it even more personal. Will definitely use again.

My mum said the flowers were gorgeous!

Really beautiful flowers and extremely fresh. Thank you Gina Haigh

I have used Dawnacres Florist a few time now and I appreciate their excellent service. My family tells me the flowers I send to my mum are beautiful.

re Holiday Splendour. My daughter in law was thrilled with this bouquet. Beautiful flowers. expertly arranged. Will certainly use this florist again. I was very satisfied with the service.

my daughter was very excited and thought the flowers were beautiful. thank you for the good service it was so easy. i will be purchasing flowers from you in the future. helen

Delivered ontime 11/11/11 to a very happy Mum. Who loved the selection of cut flowers. As a former florist/gardener she was impressed. Thanks folks. Chris

Prompt delivery. Beautiful arrangement. Will definately use Dawnacres again!

Very prompt and efficient service.

Prompt delivery with very positve comments from my mother on the quality and mix of flowers. Thankyou. Gerrit.

Great, prompt service. Will recommend to others

My mother loved her flowers. Thank you!

The flowers were delivered late morning as requested. My mother was delighted with the flowers, it really made her day. Thank you for the wonderful service. Jeff & Fiona Grove from Wellington.

I requested morning delivery though they arrived early afternoon. Other than that I was happy with the service and the flowers were nice.

Customer awarded 5 stars.

Easy to use website, all good,thanks for your help will use again when required.

The flowers were delivered on time and reflected my request for some element of blue to be included as that is my Nana's favourite colour. She was very chuffed with them.

I did not see the flowers but my Mum said they were absolutely beautiful. Thank you!

I haven't seen the flowers but I've heard they are lovely, thanks

The flowers were beautiful and exquisite! They brightened my Mum's day who is in hospital waiting for an operation. Thank you so much. So lovely to order something and it is exactly as advertised and peace of mind for us living in the USA. Thanks again keep up the great work!

Although I have not seen the arrangement sent I received a phone call from the recipients who described it to me. They were absolutely delighted and also mentioned the lovely perfume of the stocks that were included. Many thanks. Jill

Customer awarded 5 stars.

My mother was delighted to have the flowers delivery on Mother's Day and said the dozen red rose buds were beautiful, and so fresh-thank you! V.Collister

Customer awarded 5 stars.

Customer awarded 5 stars.