---
Flower Bazaar
406 Innes Road, Mairehau, Christchurch, 8013, New Zealand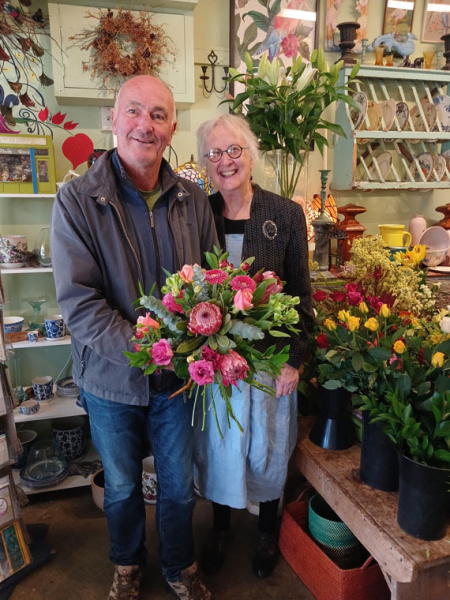 Address:
406 Innes Road, Mairehau,
Christchurch ,
8013
About Flower Bazaar:
Ian Harvey Flowers, trading as Flower Bazaar Servicing Christchurch City (all Suburbs),Ashburton and Canterbury rural. Great selection of indoor plants - beautiful bunches using the best quality flowers - quality gift cards, the best gift baskets - wedding specialist - full floral service. Orders and deliveries welcome on Sundays for Christchurch City (all suburbs)especially Mothers Day.
Opening Times:
Mon

8:30am - 5:30pm

Tue

8:30am - 5:30pm

Wed

8:30am - 5:30pm

Thu

8:30am - 5:30pm

Fri

8:30am - 5:30pm

Sat

9am - 3:30pm

Sun

Closed
We deliver flowers to:
Addington
Akaroa
Allandale
Amberley
Annat
Aranui
Ashley
Ashley Bank
Ataahua
Aylesbury
Balcairn
Bankside
Barrhill
Barrys Bay
Belfast
Bells
Bennets
Bennetts
Bexley
Bromley
Brookside
Burnham
Burwood
Cashmere
Cashmere Hills
Chaneys
Charing Cross
Chertsey
Chorlton
Clarkville
Clifton
Coalgate
Coopers Creek
Courtenay
Coutts Island
Craigieburn
Cust
Darfield
Dorie
Doyleston
Dromore
Dunsandel
Duvauchelle
Duvauchelles
Ellesmere
Ethelton
Eyreton
Fendalton
Fernside
Flaxton
French Farm
Glenroy
Glentunnel
Greenpark
Halkett
Halkett Town
Halswell
Harewood
Harewood Settlement
Hatfield
Hawarden
Hawkins
Heathcote
Heathcote Valley
Hornby
Horndon
Hororata
Horrelville
Irwell
Kainga
Killinchy
Kirwee
Kowai Bush
Kyle
Ladbrooks
Le Bons Bay
Leeston
Leeston Town District
Leithfield
Lincoln
Linwood
Little Akaloa
Little River
Loburn
Lyttelton
Mandeville North
Marshland
Masons Flat
Medbury
Mitcham
Motukarara
Motunau
Newland
North Loburn
Norwood
Ohoka
Okains
Okains Bay
Omihi
Ouruhia
Overdale
Oxford
Papanui
Pigeon Bay
Poranui
Prebbleton
Puaha
Puaho
Rakaia
Rangiora
Rapaki
Raupaki
Redcliffs
Robinsons Bay
Rolleston
Saint Albans
Sandy Knolls
Scargill
Seafield
Sedgemere
Sefton
Selwyn
Sheffield
Somerton
South Malvern
South Rakaia
Southbridge
Southbridge Town District
Southbrook
Spencerville
Spreydon
Springbank
Springfield
Springston
Springston South
Summer
Swannanoa
Sydenham
Tai Tapu
Takamatua
Takamatua Bay
Taumutu
Te Pirita
Te Rapaki-a-Te-Rangiwhakaputa
Teddington
Templeton
Tormore
Tuahiwi
Waddington
Waikari
Waikuku
Waikuku Beach
Wainui
Waipara
Waipera
Weedons
West Eyreton
West Kyle
West Melton
Wetheral
Whitecliffs
Wigram
Woodend
Woolston
Yaldhurst
Overview for Flower Bazaar
All reviews for Flower Bazaar
Thank you for doing such a wonderful job of delivering flowers to my mother. I sent the request in the morning from Canada and she received them a few hours later in New Zealand

Excellent service. The flowers were delivered exactly on time for my Mum's 94th birthday. She just loved the arrangement of flowers set in the box. I will certainly use your service again.

Fantastic Flowers, beautifully presented and delivered right on time. Thank you very much, I would not hesitate to use this service again.

Beautiful flowers delivered very quickly, Great service!

Very disappointed, first time I have used this website for flower delivery and it will be my last time too. I organised flowers for a birthday surprise on the 7th of September, flowers were due to be delivered on the 15th September. The flowers did not arrive until the 20th of September because my order had be misplaced. I'm so disappointed as the person who was receiving the flowers was turning 60, their only child was recently incarcerated and I organised these flowers on behalf of them! Really bad service, I've not even received a phone call to say that my order had been misplaced nor have I been offered a refund because the service was not as I expected. I found out today that the flowers arrived yesterday. I do not recommend this company at all, I'm so upset things didn't go to plan.

Didn't actually view delivered flowers but assured they were lovely. Delivered in good time and as directed. Thank you

I have seen photos of the flowers and they looked great as well as in the colours I requested. I only know this because the recipient posted a photo online on their facebook page. I see some florists take photos of the flowers prior to sending who are in the Direct2Florist scheme. I would love to see Flower Bazaar do this too if possible. However, I certainly recommend them and would use them again. Hari.

Mother delighted with her Birthday Basket - many thanks!

Delivered on time. Was easy to do online. Flowers looked nice. Thank You

The only problem was that it was a day late. The delivery date stated the 3rd of April and it was delivered on the forth?

Much improved over the previous experience. Keep it up.

Hassle free service with delivery as requested.

Thank you very delivering a beautiful arrangment of flowers to my well deserving friend, who absolutely loves them!

Customer awarded 5 stars.

Delivered the same day, very reasonable price (ordered in the U.S., prices are comparable to local flower shops). Will definitely do business with again!

The late delivery of the flowers placed a damper on the occasion.

Thank you so much for the beautiful flowers that were delivered n time at very short notice. Much appreciated.

I have been told that the flowers that arrived were fresh and beautiful so thank you for making my sisters birthday even more special.

2 deliveries and everything perfect, thanks :)

thank you for smooth transaction

I was impressed with the ease of sending flowers via this website. They were delivered at the right time...no fuss. Excellent service.

super service, happy Christmas!